Restoring the Altars
10 Day Prayer Tour
During PURIM, the Feast of Esther - For such a time as this!
March 19-28, 2024
Encourage the Body of Messiah in Israel during this challenging time and stand in the gap for God's purposes
Gain access to unique sites not open to the public and visit the ancient altars
Pray and worship with the people of Israel in present-day houses of prayer

Rick and Patricia Ridings, Directors

Don Boyd, Project Coordinator
In these difficult times, we're pleased to extend this invitation to intercede with us in Israel for God's work in restoring altars of worship and preparing a generation set apart for HIS purposes and glory!
What People Are Saying from our Ministry Internship Tour
Itinerary Highlights:
Welcome dinner with Rick & Patricia Ridings / The ancient city of David and Gihon spring excavations (site of the newly discovered Melchizedek altar) / Joshua's altar at Mt. Ebal and the Gilgal memorial / Original Jordan valley baptism site near Jericho / Visit to the Temple Mount / Teaching times led by local staff and ministry leaders / The governmental worship watch in Succat Hallel / Kyriat Yearim - site of the Ark of the Covenant / First temple period Shiloh – site of the Tabernacle / Abram's altar at Bethel / Qumran (discovery site of the Dead Sea Scrolls) / The Dead Sea / Boat ride on the Sea of Galilee / Arad Fountain of Tears / Shepherd's Field in Bethlehem / Visit to other Houses of Prayer in Tel Aviv, Nazareth, Carmel, and Israel's oldest Kibbutz
*Please note that access to some sites will depend on the security situation and might not be possible
Succat Hallel Prayer Tour
Registration Form
Included in the land package:
8 nights in hotel accommodations with breakfast and dinner provided
Escorted transfer to and from Ben Gurion airport in Tel Aviv upon arrival and departure
8 days touring accompanied by English speaking Israeli Messianic guide and worship events hosted by Succat Hallel
Entrance fees as per itinerary plus a free 2-week pass to Israeli national parks for those wishing to extend their visit
One St Peter's fish lunch in the Galilee
Tips and gratuities for the guide, driver, and hotel staff
SIM card for unlimited mobile data
Terms & Conditions
A deposit of $329 per participant is required to complete registration. This is not an additional cost, but is included as part of the overall tour price. The deposit is non-refundable.  Information on how to make the deposit will be sent by email after completing the online form.
The remaining balance is due in full by January 20, 2024.

Not included in the land package price:
• Flights
• Lunches not mentioned in itinerary
• Insurance
• Other expenses not mentioned
For cancellations 61 days prior to the departure date, all payments will be refunded (minus the $329 initial deposit per person). For cancellations 30-60 days prior to departure date – all payments will be refunded, minus $1,625. In the case of cancellation less than 30 days prior to arrival – no refund.
All cancellation requests should be sent by email to pt@succathallel.com
*IMPORTANT: Please consider purchasing travel insurance in order to cover costs related to cancellation or other unforeseen events.
Our hotels: UPDATE - Our first night on the March 20th will be at the Dan Panorama Hotel in Tel Aviv on Mediterranean coast. Afterwards, Leonardo Hotel (2 nights in Tiberias on the Sea of Galilee), followed by the Prima Royal (5 nights in Jerusalem near Succat Hallel)
*If hotel changes are needed, similar or better accommodations will be provided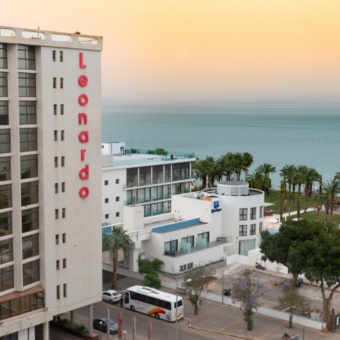 ITINERARY
Tuesday March 19: Travel Day
Wednesday March 20: Arrival in Israel (recommended between 6-10:00am), Kyriat Yearim - site of the Ark of the Covenant, Prayer Tower in Tel Aviv, Welcome Dinner with Rick & Patricia Ridings, Overnight in Tel Aviv
*For those arriving prior to March 20, additional hotel nights can be arranged in Tel Aviv
Thursday March 21: 'One New Man' prayer house near Mt. Carmel and Elijah's Altar, Nazareth Village, House of Prayer and Exploits (HOPE) – Nazareth, Overnight in Tiberias
Friday March 22: Galilee Sites, Boat ride on the Sea of Galilee, Lunch provided with option of St. Peter's Fish, Vertical House of Prayer in Kibbutz, Shabbat evening dinner, Overnight in Tiberias
Saturday / Shabbat March 23: Joshua's Altar at Mt. Ebal, Original Jordan Valley Baptism Site near Jericho, the Wilderness Tabernacle and/or Qumran, Overnight in Jerusalem
Sunday March 24: Temple Mount, Southern Wall excavations, Western Wall Tunnel Tour, Evening Worship and Teaching at Succat Hallel, Overnight in Jerusalem
Monday March 25: Hinom Valley, Governmental Intercession Watch, the ancient City of David and Gihon Spring excavations - site of the newly discovered Melchizedek Altar, Overnight in Jerusalem
Tuesday March 26: Shepherd's Field in Bethlehem, Arad fountain of tears, the Dead Sea, Evening Worship and Teaching at Succat Hallel, Overnight in Jerusalem
Wednesday March 27: Gilgal, first temple period Shiloh – site of the Tabernacle, Abram's altar at Bethel, Farwell Dinner with staff of Succat Hallel, Overnight in Jerusalem
Thursday March 28: Hotel check out by 11:30am, Free Airport Transfer for Return Flights Home
ADDITIONAL INFORMATION
Booking Flights
·       Participants should book flights to Tel Aviv (TLV)
·       The recommended time of arrival on March 20 is between 06-10:00am – we will be there to greet you upon arrival!
·       Those arriving before March 20 will need to inform us so that additional accommodations can be arranged
·       Return flights should be booked to depart from Tel Aviv on March 28 - except for those wishing to stay longer at their own expense
·       Hotel check-out on March 28 is 11:00am (please let us know if you wish to stay longer)
Travel information
Participants are responsible to verify if any visa or travel restrictions apply.  Travelers from many countries, including the USA, EU, Korea, Singapore, and many others, are exempt from applying for an entry visas to Israel.  For more information, please consult the Israeli government website https://www.gov.il/en/departments/publications/reports/tourist-visa-table
Note: Although we do not require passport information to secure reservations at the time of registration, entrance to Israel requires passports to be valid for at least 6 months upon arriving in Israel.  Each participant should make sure to have an up-to-day passport by January 20 when the final tour payment is due.
About our Tour Provider
Jerusalem Eternal Tours (JET) is responsible for hotel bookings and other tour related tour needs.